August 19th marked six years since the day I started this diabetic dog journey. When Lucy was diagnosed with diabetes and pancreatitis, who knew that I would dive in so deep to learn this much about canine diabetes and nutrition. And I certainly never thought I would be here writing blogs, educating other sugar parents and helping run a group on Facebook. I want to share my story and Lucy's legacy with you all. So grab a cup of your favorite caffeinated beverage and maybe a tissue as I reminisce about the most special dog ever.
Lucy came into my life in 2011 after I met her dad Scott. Scott got her in 2004 while on a road trip, venturing across the USA to race at different motorcycle tracks. While he was in Virginia, he met this little Jack Russell Terrier puppy named Tootie. He fell in love with her and decided that she needed to go home with him and that her name should be Lucy and not Tootie.
Fast forward to 2011 when I met Scott and then Lucy. She was so sweet, smart, silly and of course I fell in love with her. When we introduced my pack, Bella and Frank to Lucy they all became quick friends. Frank fell in love with Lucy and Bella and Lucy became inseparable. Frank was a shelter dog and had been abused when I rescued him in 2010, he was pretty shut down due to trauma but with the help of Lucy he came out of his shell and grew into this giant happy silly lovebug. Bella had always been a little diva, I got her when she was six weeks old and if you've ever had a Chihuahua, well then you know they can be little divas! Lucy worked on Bella and chipped away at her tough little exterior until Bella begrudgingly gave in and allowed Lucy to lay next to her while they napped. I remember clearly just how shocked I was and even took pictures. This quickly became the norm. Lucy and Bella napped and laid together constantly. Lucy and Frank played like wild beasts, growling, snarling and jumping around. They had become the perfect pack and I credit Lucy with their transformation – she was their teacher and best friend.
The summer of 2015 Lucy started acting a bit off. We had gone on a family vacation and Lucy did not want to eat while traveling. This was nothing out of the ordinary because she tended to eat less when she traveled. During our eight-hour trek home she was visibly nervous and shaking. We were concerned that there was something wrong with her but the symptoms subsided once we got home so we chalked it up to an unpleasant long drive home. Lucy was back to normal; ate, drank water normally and was playing and lounging like nothing was wrong. About two weeks later she exhibited more odd behavior; she would not settle late one Saturday night and got hives all over her entire body. While I sat in an Epsom salt bath with her after giving her Benadryl, Scott promptly called a vet tech friend. Again symptoms quickly subsided and the vet tech agreed that Lucy did not need an ER vet but to monitor her closely, so that's what we did. Monday it was obvious that Lucy was not well, she would not eat even though she was searching for food and she was drinking copious amounts of water. Tuesday morning we were at the vet's office for a senior blood panel. Wednesday morning at 8:45 am the vet called us with results: Lucy had severe pancreatitis and was diabetic. She needed to be brought in right away. By 11am lucy and I were back at the vet's office for treatment and the vet wanted to keep her, but I was adamant about treating her at home where she would be comfortable. I was scared to death that Lucy was going to die and I could not bear the thought of her passing alone in a kennel with strangers. The vet was angry but agreed to provide the necessary medications and I was given a crash course on subcutaneous fluids, medications and insulin injections. I had a fair amount of experience with human pancreatitis but virtually no experience with diabetes. Honestly I was more concerned about her pancreatitis diagnosis than the diabetes. Thankfully Lucy did splendidly with treatment at home and our vet was shocked at how much better she was three days later. Lucy went on to recover well from severe pancreatitis, but it was time for me to concentrate and learn about canine diabetes. Before August 19, 2015 I had no clue that dogs could even get diabetes!
The first six months after diagnosis I was beyond stressed. I had this constant fear that Lucy was going to die. I checked on her throughout the night to make sure she was breathing. If she got up in the middle of the night to go to the bathroom, I timed it or went out with her. I Googled information about diabetes but got differing answers. Canine diabetes was so confusing to me!
The seventh month into diagnosis life started to become a little less stressful. Testing blood glucose levels became easy, I had switched insulin from Vetsulin to Novolin N, curves were looking better. The eighth month I changed Lucy's food from Hills WD to Wellness Core Reduced Fat Dry along with a wet food and Lucy started gaining back all the weight she had lost; at diagnosis she weighed 22 lbs. and had dropped to 16 lbs. by January 2016. By April 2016 she hit her target weight of 20.5 lbs.
SUCCESS! I felt so good, I had taken her care into my own hands (with vet knowledge) and Lucy was thriving. The first time she rough played with Frank after her diagnosis I cried, I thought I would never see that again. We had our spunky Lucy back!
When I put my mind to something I usually accomplish my goal. I was pretty upset that information on canine diabetes was so inaccurate and that we are not give the "whys" to what we are told to do. I have always been that person that asks why and I want a thorough answer. This led me down the path of researching and reading an immense number of published clinical studies and credible diabetes information for both dogs and humans. I then took canine nutrition courses since food and blood glucose levels are directly related. Even though our dogs are type 1 diabetics and require insulin injections, we can help blood glucose levels be feeding a low carb diet.
I had joined several groups and landed in Diabetic Dog Owners. At this point I had a good knowledge base and I felt it important to help others that were just as scared as I had been. I never forgot how overwhelmed, stressed and alone I had felt and I did not want anyone else to feel alone in this journey. I started supporting other members while continuing to learn and in January 2017 I was asked to be and administrator in Diabetic Dog Owners Facebook group which I graciously accepted. As the group grew, we added more like-minded administrators and moderators. Our group has become a great source of knowledge, education and support for a lot of people…the admin and moderators are just a wonderful crew!
Through all this my Lucy was plugging along and doing really well. Age was catching up to both Bella and Lucy and they had visibly slowed down. Bella had collapsed trachea and COPD and required some heavy-duty medications that took a toll on her body, and then in October 2019 she was diagnosed with dementia. Her little body and mind failed her and at 16.2 years old on December 30, 2019 we helped our feisty little diva cross rainbow bridge. At the time it was a loss that I could not comprehend and my grief was deep. What I did not realize at the time was just HOW close Bella and sweet Lucy were until one day I noticed Lu walking around looking for someone to snuggle with. Ugh, it just broke my heart because right then I knew that Lucy was looking for Bella. Lucy started losing weight and her lack of appetite was concerning so off to the vets we went and on February 22, 2020 Lucy was diagnosed with kidney failure. This was a dreadful blow to me, but once I wrapped my head around diagnosis, I pulled up my bootstraps and made the proper adjustments to food, added needed medications and started subcutaneous fluid therapy. A this point in Lucy's life we knew it was just a matter of time and keeping her comfortable and pain free was our number one goal until her time came.
Unfortunately, that time came on March 16, 2020, just 77 days after losing Bella. Lucy was almost 16 years old, just two months shy of her birthday.
Losing the girls had been absolutely gut wrenching, Bella had been with me since November 19, 2003 and I could not even speak her name for months after she passed. But when I lost Lucy, I was completely lost. Her and I had been on this journey together and we had this inseparable bond due to her diabetes diagnosis. Lucy is what drove me to educate myself. She was the driving force for me to help others. And Lucy is what drives me to continue to support and educate others. A little piece of Lucy is in every dog we help in the DDO, the DDO-U and in these blogs…without Lu I wouldn't be where I am, talking to who I talk with, I wouldn't have some of the closest friends that I have, and I wouldn't be surrounded by an incredible group of people.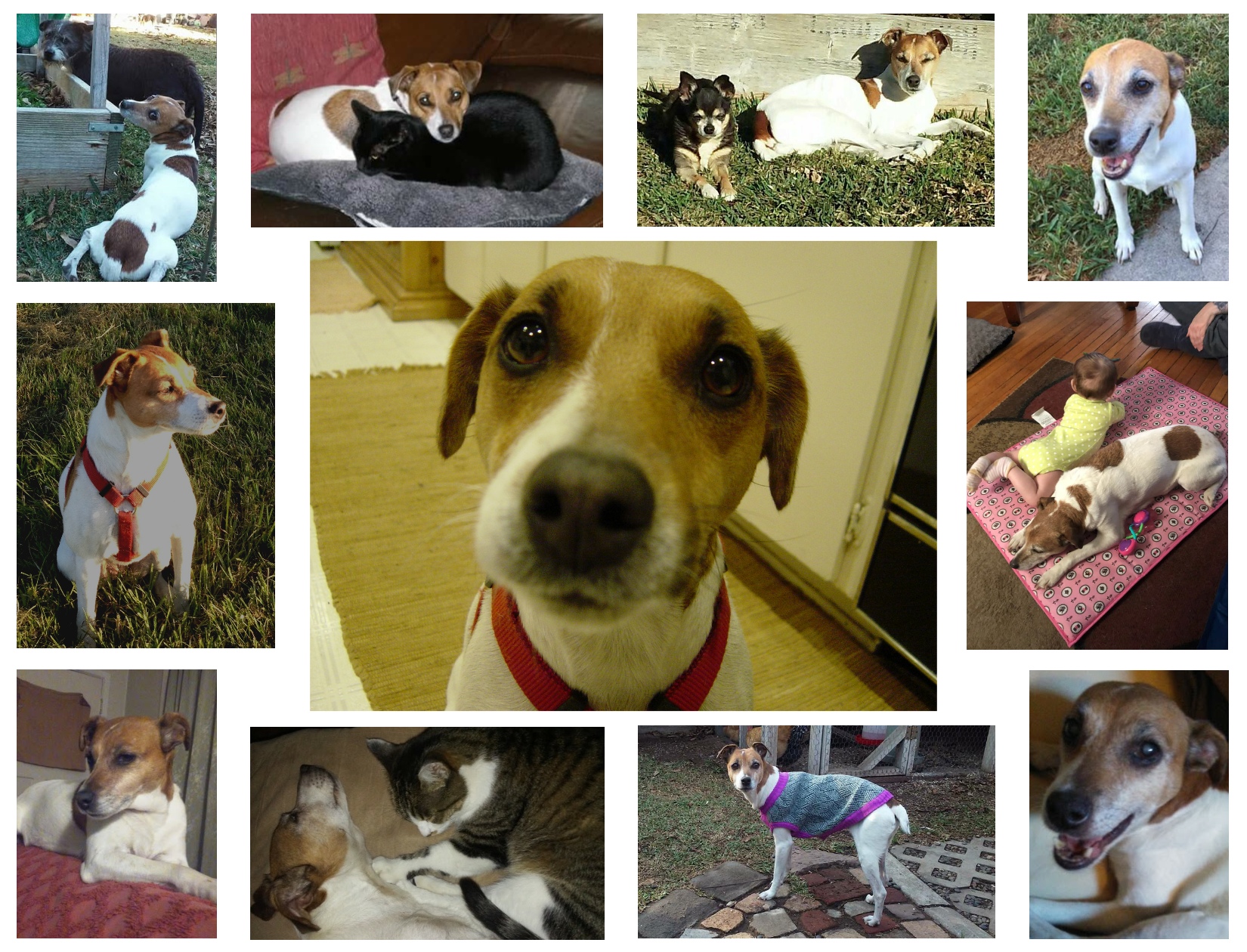 Lucy sure has left quite the legacy; I miss her every day but I know that she is still here living on in every dog we touch. Thank you, Lucy my Love, you have given me more than I ever could have imagined…you ARE the most special dog ever.
Until next week, stay cool and caffeinated!
If you have any questions, comments or suggestions, please start a conversation below.
If you are looking for a Facebook community to join for support, I have proudly been an admin in Diabetic Dog Owners for four and a half years. You can also join Canine Diabetes Support and Information on Facebook as well.
Be sure to join the PetTest family on Facebook and Instagram. PetTest has fun, interactive posts AND they have fabulous giveaways every week!
For a printable version of this blog click here.